Cramlington 15th May 2018 – 13 "Supermatt" solid colours are the latest new additions to the company's RENOLIT ALKOREN range of 3D thermo-formable films and they are all available ex-stock in the UK.
Matt surface finishes continue to increase in popularity and market trends are now diverging into different styles of matt textures. Therefore "Supermatt" has been developed to complement the popular and successful "Suedette Matt" emboss.  "Supermatt" is an elegant, low friction, smooth and durable matt surface finish. In addition to providing a stunning and touchable surface, RENOLIT Cramlington's "Supermatt" has tested as the best performing product when compared against other similar materials for key physical properties such as scratch, mar and stain resistance.
"Supermatt" is available in all of the most widely sold colours in the UK, offering a commercially attractive colour palette combined with a desirable high performing superior matt surface.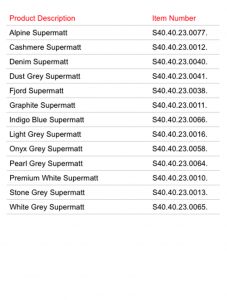 In addition five more supermatt colours are added to the 2018 Highlights collection, bringing the complete RENOLIT offer to 33 supermatt colours in total.
The company
The RENOLIT Group is a globally-active specialist for high-quality plastic films, sheets and other plastic products. With more than 30 locations in over 20 countries, and with annual sales of EUR one billion in fiscal 2017, the company is one of the world's leading plastics product manufacturers. Over 4,700 employees continue to further the knowledge and expertise gained from over seventy years of business.