At the 11th annual edition of Sleep, Europe's hotel design and development event which took place at London's Business Design Centre on 22nd and 23rd November, the 'Science of Tribes' theme awakened the mind and curiosity while raising the bar with profoundly considered installations, the highest quality of exhibitors and an inspiring and thought-provoking conference. With visitors from across Europe, speakers from the US and more overseas exhibitors than ever before, the 2016 event was the most international and well-attended Sleep yet, achieving a 9 per cent uplift to over 4,700 visitors.
Sleep Set
Participants from as far away as Japan and Singapore convened to take on the Science of Tribes design challenge through the Sleep Set competition, Sleep's annual guestroom feature widely recognised for questioning convention and transforming the way hotels and designers think about the spaces they create.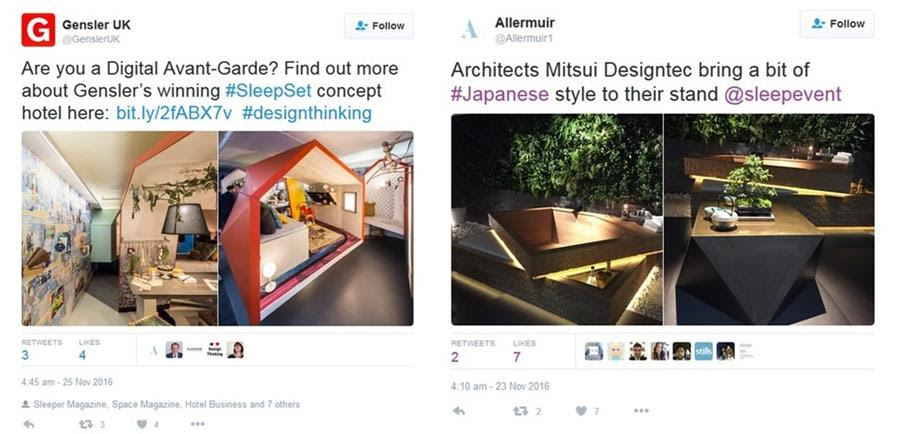 The 2016 Sleep Set, sponsored by Dornbracht, saw five teams of designers and fit-out contractors each create a room for a tribe characterised by their shared values, lifestyles and aesthetic preferences as identified by the Sinus Institute social model. Mitsui Designtec from Japan created a concept to engage the senses for the 'Established' tribe, and WOW Architects from Singapore focused upon the 'Intellectuals' with a room where norms were overturned and the bed was on the ceiling. Studio Proof conceived a design replete with the stunning details required to please the demanding 'Performers' tribe, while Aukett Swanke created a bivouac for the 'Sensation-Oriented' tribe that doesn't normally stay in hotels. The teams presented their concepts to the conference audience and judges on Day Two, and Gensler was awarded top prize for its innovative interpretation of local authenticity for the 'Digital Avant-garde' tribe; Mitsui Designtec was also given a Highly Commended award for its beautifully crafted biophilic room design.
Luciano Mazza, Director of Hospitality, Architecture at HKS, was full of praise. He said,
"The Sleep Sets elevate the Sleep event beyond a standard tradeshow experience."
Ricardo Moreira, Managing Director of XCO2 Energy, added,
"Sleep just keeps just getting better every year. The Sleep Sets are really impressive and creative with the subject of tribes – very topical!"
Sleep Bar
This year, interior design and branding agency, Superfutures, provided an intriguing companion piece to the Sleep Sets in its Bar – more a series of musings on the meaning of tribes conceived to stir the senses than a conventional watering hole.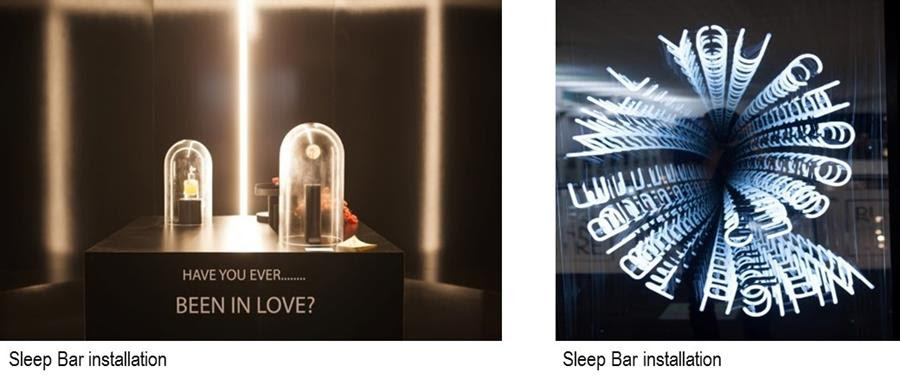 A conference of inclusion and distinction
With an auditorium packed from start to finish, the two-day Sleep conference explored issues at the leading edge of hotel design and development.

The opening address from serial entrepreneur Sharan Pasricha, CEO and Founder of Ennismore, revealed how personalised design, service and experiences differentiate the hotels his company conceives and develops, including The Hoxton and NoCo, a new brand set to challenge the status quo of the budget sector. Celebrated designer, Adam Tihany, was joined by the President of Seabourn and Cunard, Rick Meadows, to discuss the changing face of cruise ship design, and boutique hotelier, Robert Nadler, was part of the Hotel Development panel which explored ways to keep the momentum going once a hotel has opened.
Of course, international hotel brands were well represented too, with Patricia Holler, Senior Director Interior Design at Marriott International, and Erin Hoover, Vice President of Global Brand Design at Starwood Hotels and Resorts, amongst the industry leaders hosting the always popular Development Round Tables. A Future of Wellness session explored the latest understanding of well-being. Sue Harmsworth MBE, Chairperson of ESPA, explained how research increasingly reveals the damage that technology and sleep deprivation are causing to our psychological and physical equilibrium, while acclaimed designer and philanthropist Clodagh enlightened the audience with her view that spaces which inspire ease and joy have a viral power to spread these feelings from one person to the next.
Also contemplating the notion of 'space' and how it relates to all our life experiences were Signe Bindslev Henriksen and Peter Bundgaard Rützou, the founders of design studio SPACE Copenhagen who shared their philosophy during a keynote interview about 'Poetic Modernism'.
The Fear & Love in Hotel Design panel considered the challenges faced by the industry. In answer to the question, "How can a hotel can establish a point-of-view?", Vince Stroop, Principal of Stonehill & Taylor, advised owners and developers to invest in properties rooted in the community and with a truly local design to ensure the experience can't be replicated. The Art Panel also echoed this idea, with Melita Skamnaki, Curator and Director of Double Decker, joining other creative experts in considering how multi-sensory immersions and artwork developed with social media in mind can deepen the hotel's narrative and the guest experience. General managers at the top of their game, including Kieran Quinn from the Sheraton Grand London Park Lane and Guillaume Marly from ME London, joined the panel Living with Design which explored the challenges of keeping hotel interiors fresh and up-to-date during the life of the design. The closing keynote offered warmth and humour from Loh Lik Peng, Founder and Director of Unlisted Collection, who revealed how his approach of giving free-reign to design teams has been part of the secret of his success.
Hand-picked, cutting-edge exhibitors
Sleep's collection of over 150 exhibitors displayed all the quality, ingenuity and outstanding craftsmanship that is the hallmark of the show. Over one-third of the brands were new to Sleep and, as the most international line-up yet, the exhibition attracted suppliers who chose the event as a launch platform because of its unique focus and global visitor profile.
Alternative Flooring debuted at Sleep with the award-winning Wool Barefoot and the distinctive Quirky B using patterns from great British designers and suppliers such as Ashley Hicks, Margo Selby, Ben Pentreath and Liberty Fabrics, the first time that Liberty Fabrics has used its iconic patterns on a carpet. Meanwhile, Rug Maker launched a range metallic rugs made from gold and silver looped threads mixed with fine Chinese silk and New Zealand wool – something entirely new in the European market.

Style Library Contract presented its new Zoffany 'Phaedra' collection of fabrics and wallpapers, with an underlying classical influence elevated by a mastery of colour, while Cole & Son debuted at Sleep with beautiful, one-of-a-kind fabrics and wallcoverings made using traditional production methods.
Founder Sponsor and host of the invitation-only VIP lounge GROHE presented its Sensia Arena shower toilet as well as other products incorporating its innovative technologies, while newcomer Villeroy & Boch displayed new ranges designed by Gesa Hansen including the Artis Colour surface-mounted basins available in 15 colours and four shapes for maximum personalisation. In addition, AXOR presented new bathroom and kitchen pieces from its classic collection AXOR Montreux, and Hansgrohe presented its new range, Hansgrohe Metropol Classic.
Ross Hamilton Englisbe, General Manager of new exhibitor Hamilton Conte Paris, says,
"Sleep is a well-curated London event that unites a broad spectrum of brands… makes it easy and fun for designers to take time out of their schedule".
While Sven Ullrich, Global Head of Marketing for long-time exhibitor Dornbracht, concurs,
"The show is unique for its focus on where products will ultimately be used, the hotel room. There is a lot of inspiration to be found across the show floor."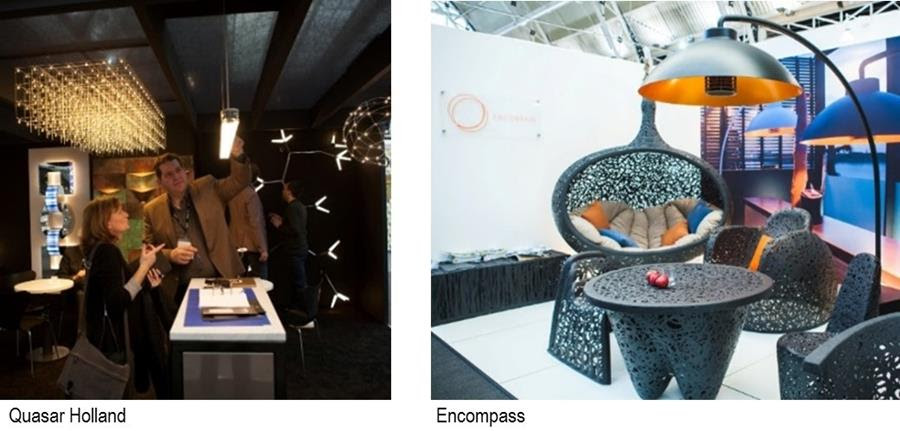 Leading lighting brands from across Europe, such as Fabbian Iluminazione and Quasar Holland, revealed their latest ranges of contemporary pieces, while design-led furniture and accessories for outdoor spaces were showcased by companies such as Encompass which debuted its furniture line of hanging seat pods, lounge and dining furniture made from basalt fibres and the Immersive Reality Lounge hosted by tech-pioneers, Soluis, gave visitors a chance to experience hotel design concepts in 3D using the latest digital reality platforms.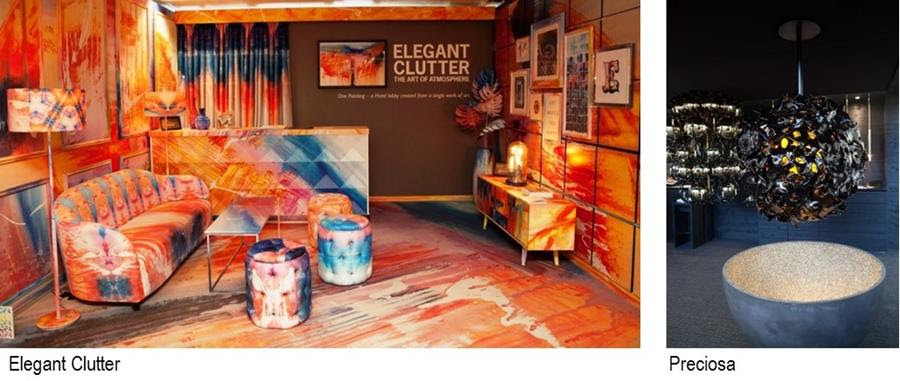 Art consultancy, Elegant Clutter won the Best Stand of the Show award for its vibrant display. The team had created a piece of artwork and set themselves the challenge of transferring it to every single surface of the mock-up lobby. The results were both stunning and welcoming as the floor and wall surfaces – and even the team's clothing – became works of art. Judges awarded Preciosa the runner-up position for their ambitious and conceptual front-of-house installation. Giant chandeliers inspired by the earth's elements appeared to have risen by virtue of their lightness to hang just above decorative containers.
Michel Couque, Managing Director of returning exhibitor Lelievre, was delighted with the spirit of Sleep 2016. He said,
"As always Sleep delivered the right clients to us. It had an even more international flavour this year – we're happy to be part of the Sleep family, it is friendly and has a nice warmth."
Outside, an old Routemaster bus raised a smile – in reality Havwood's travelling showroom, at Sleep to provide a UK preview of its two new and spectacular timber finishes.
Joel Butler, Event Manager for Sleep said,
"Last year's Sleep event was typically met with the response, 'Wow! What will you do in 2016?' Well, this year's Sleep created the best visitor experience and most inspiring content yet. Once again, we celebrate record-breaking visitor numbers and exhibitors which have already re-booked, and once again Sleep defines itself as the only show of its kind. The question now is, 'What will we do in 2017?!'"
Sleep's official Event Partner is the European Hotel Design Awards which culminated in a glittering ceremony on Monday, 21st November. GROHE was the Founder Sponsor for the Sleep event and host of the VIP Lounge for the eleventh consecutive year.  Next year, Sleep will be held on 21st and 22nd November in London's Business Design Centre. Register your interest for Sleep 2017 now! www.thesleepevent.com