Designing an architecturally fantastic home isn't simply about looks – someone has to figure out how best to build it and unlock the architectural brilliance.
At Kingspan Timber Solutions we are engineering experts. We work hand in hand with you and your design team and provide technical expertise to ensure the design can be built and your home performs just as you would want.
Working with Kingspan couldn't be easier. We believe every project is unique and the secret of our success starts with first understanding your objectives so that we can recommend the best building system and seamlessly integrate it within the fabric of your home.
It's simple to work with Kingspan – three steps to your dream home.
We engineer and design the structural building system to your architects designs
Uniquely designed homes deserve individually engineered solutions to ensure they are as good as they possibly can be.
All our projects are bespoke and are the product of a close working relationship with the Customer's Architectural design team. At Kingspan we believe building performance is much more dynamic than simply choosing a building system. By understanding your objectives, we recommend how best to achieve them using our unique blend of engineering expertise, advanced system technologies and a flexible approach to building system integration to form the best building envelope for your home.
Architecture: We support professional designers with CAD format details, backed by thermal, fire and structural performance data.
Engineering: From outline structural appraisals, to specific foundation loads and CAD layouts. All our systems are professionally designed by experienced Engineers to form a coherent and complete building structure including all walls, floors and roofing elements.
Thermal efficiency: Kingspan is a name you can trust to provide industry leading innovation on thermal performance. Our systems are designed to lower energy costs by using Kingspan KoolthermR insulation products to improve U values and minimise thermal bridging.
We manufacture the building kit
At Kingspan, we don't just design it, we make it. With over 50 years experience of manufacturing timber building systems, we have an unrivalled track record of manufacturing industry leading timber building kits.
All our systems have 'proven to perform' credentials backed by our extensive Professional Indemnity insurance. We offer piece of mind that your finished home will be manufactured to perform as it was designed to do;
STA Assure Gold accreditation
Accreditation to the Quality, Environmental and Health & Safety ISO standards
Independent fire testing to EN standards
SAP assessment and completion of energy performance certification
Thermal modelling and condensation risk analysis of all thermal elements
We construct the timber building structure on-site
All our systems are erected to the highest standards by specialist erection teams and supervised by our expert contracts managers. We offer a comprehensive build service taking up the strain of on-site operations. We include, as standard, access checks and all costs for erection, delivery and offloading no matter where your project is located.
You finish the build to your specifications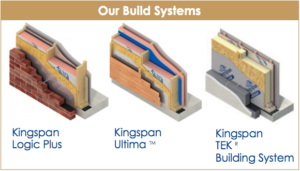 To find out more about how we can provide a high-performance build system for your design, send us your drawings for a quote:
info(Replace this parenthesis with the @ sign)kingspantimbersolutions.co.uk
kingspantimbersolutions.co.uk/quote
Tel: 01767 676400